Published on 04-05-2014 12:21 AM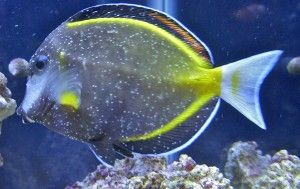 I found this while looking into John's question yesterday. Credit given at the end of the article.

Marine Ich (Cryptocaryon irritans)

One of the marine aquarist's devils. So many articles have been written about it. Many are long or are in multiple parts. A lot is known about this marine fish disease because of the many $$$ put into research by the fish farming and aquaculture industries. First discovered (or the better word is 'noticed') in the 1800's and later more understood in the 1900's, we've learned about all there is to know about this parasite by the 2000's.

I don't want to write a long post on Marine Ich (MI) but the reader, in as brief of space as possible, should know some truths. The aquarist 'sees something' and then 'guesses' as to what it means and thus starts another round of rumors. It's almost ...